We're finally coming out of a wet and cold winter (hopefully), which means it's finally safe to wear your expensive trainers agains! We've looked at the hottest trainers for Spring 2020, so whether you are heading into town with friends or off on a weekend away. Make sure you are getting about in one of these:
1. Alexander McQueen Runway Leather Trainer
These are our favourite and a must have in every girls wardrobe this spring! Alexander McQueen Show Leather Platform trainers offer a unique take on athleisure, by offering elevation in a cool and contemporary way. Priced at around £360, they are on the expensive side (look out for competitions though!). However, they come in a range of colours, so if you want something to match your favourite outfit, these are the ones for you!
2. Gucci Ace Bee-embroidered Leather Low-top Trainers
Who doesn't love a pair of Gucci trainers? Every girl who is obsessed with trainers should own these, they are perfect for adding a bit of colour to your trainer collection. The beauty of them is that whether you are dressing up or down they will compliment your outfit, we honestly can't find anything they don't go with (within reason!). They are priced at around £445 but believe me for that you definitely get comfort to go with the style!
3. Golden Goose Superstar W77 Leather Trainers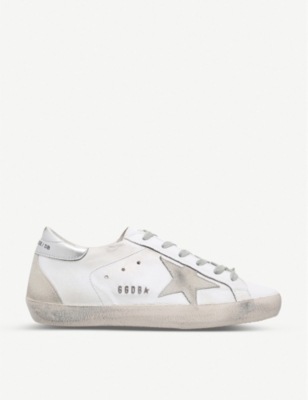 Coming in at around £345 these are the cheapest trainers we are looking at today but we love them every bit as much as the others. These are very unique in terms of style but they are quickly grabbing the attention of every trainer lover in the UK. They play on the dirty white look, how many of our trainers end up after 6 months, but they do this in such a way that they still manage to look box fresh. So if you want a unique pair that will really grab the eye this spring, look no further.